Treehouses have always been the dream of any child. Not all of us have been able to have one in our childhood, but we always found some similar alternative that made us look like we were in our own refuge at the top of a tree. However, dreams and fantasies are not always for children. When we grow up, we can have many illusions and, possibly, we have more options to make them come true. Instead, let them tell all the owners of these treehouses that even though they have grown up, they wanted to make their dream come true, and the truth is that the result is spectacular. Architectural advances and innovation in the use of certain materials have made possible the construction of many houses in some of the most unlikely places. What is certain is that the fusion between architecture and nature that we will see in the following images manages to leave us impressed. Obviously, the places mentioned below are of current homes with expensive work behind them; many of them take on a futuristic look while others recreate the illusions of yesteryear. Which one would you choose?
#1. THREE STORY TREE HOUSE, REVELSTOKE, CANADA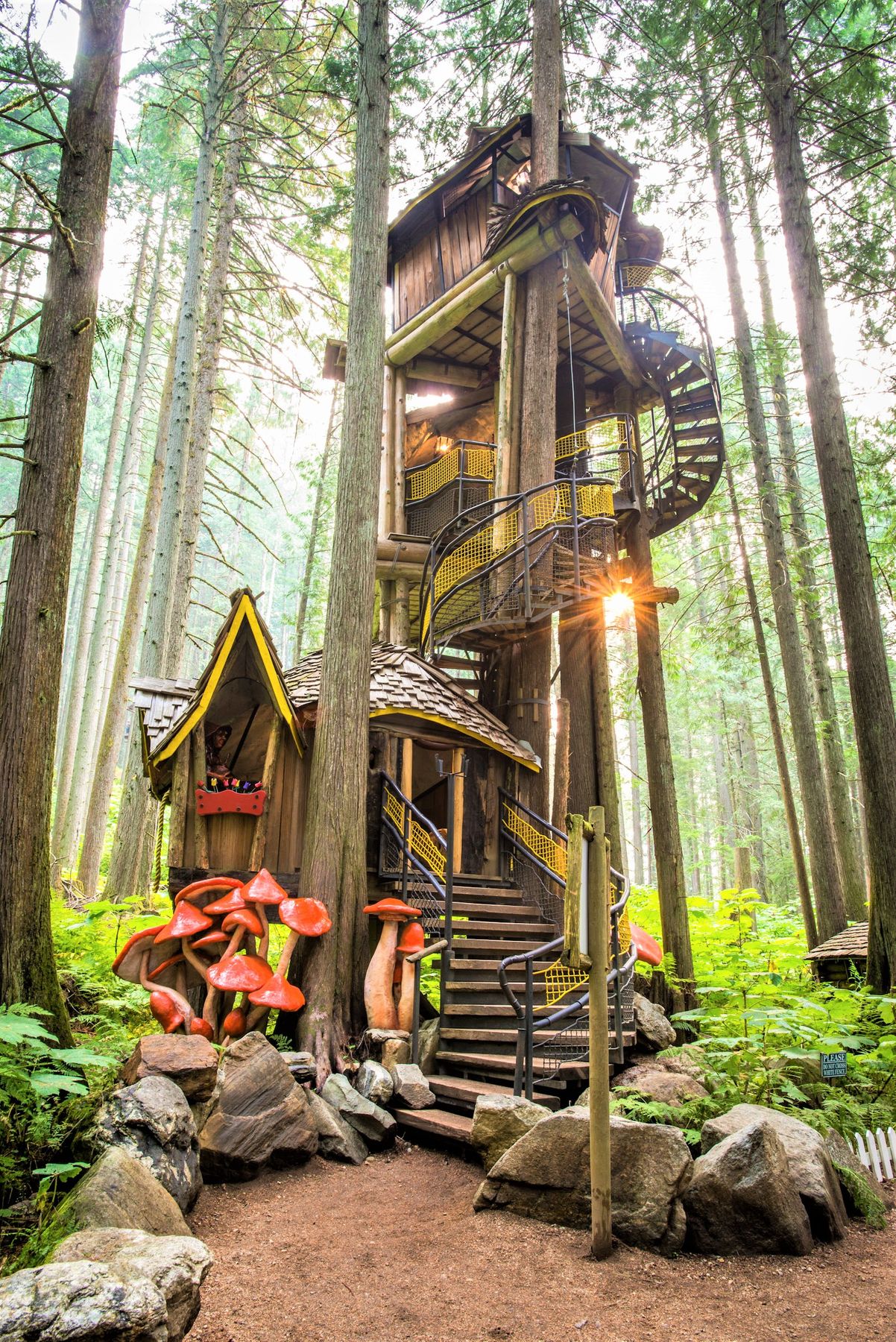 It is located in the enchanted forest attraction of Revelstoke, BC. It is the tallest treehouse in British Columbia, where everything looks like a fairy tale.
#2. VICTORIAN HOUSE, BROOKSVILLE, FLORIDA
A flight instructor from World War II bought this plot in the 1970s, then built this house with his own hands.
#3. THE HEMLOFT SECRET TREE HOUSE, WHISTLER, CANADA
It is a house that is kept secret since it was built on land that the designer, Joel Allen, does not really own.
#4. FIVE-STAR E'TERRA SAMARA RESORT, TORONTO, CANADA
The complex is comprised of twelve of these villas that hang out in the Bruce Peninsula Forest. The samara seed inspires the design. It includes a sleeping area, living room, toilet and shower.
#5. FREE SPIRIT SPHERE – CANADA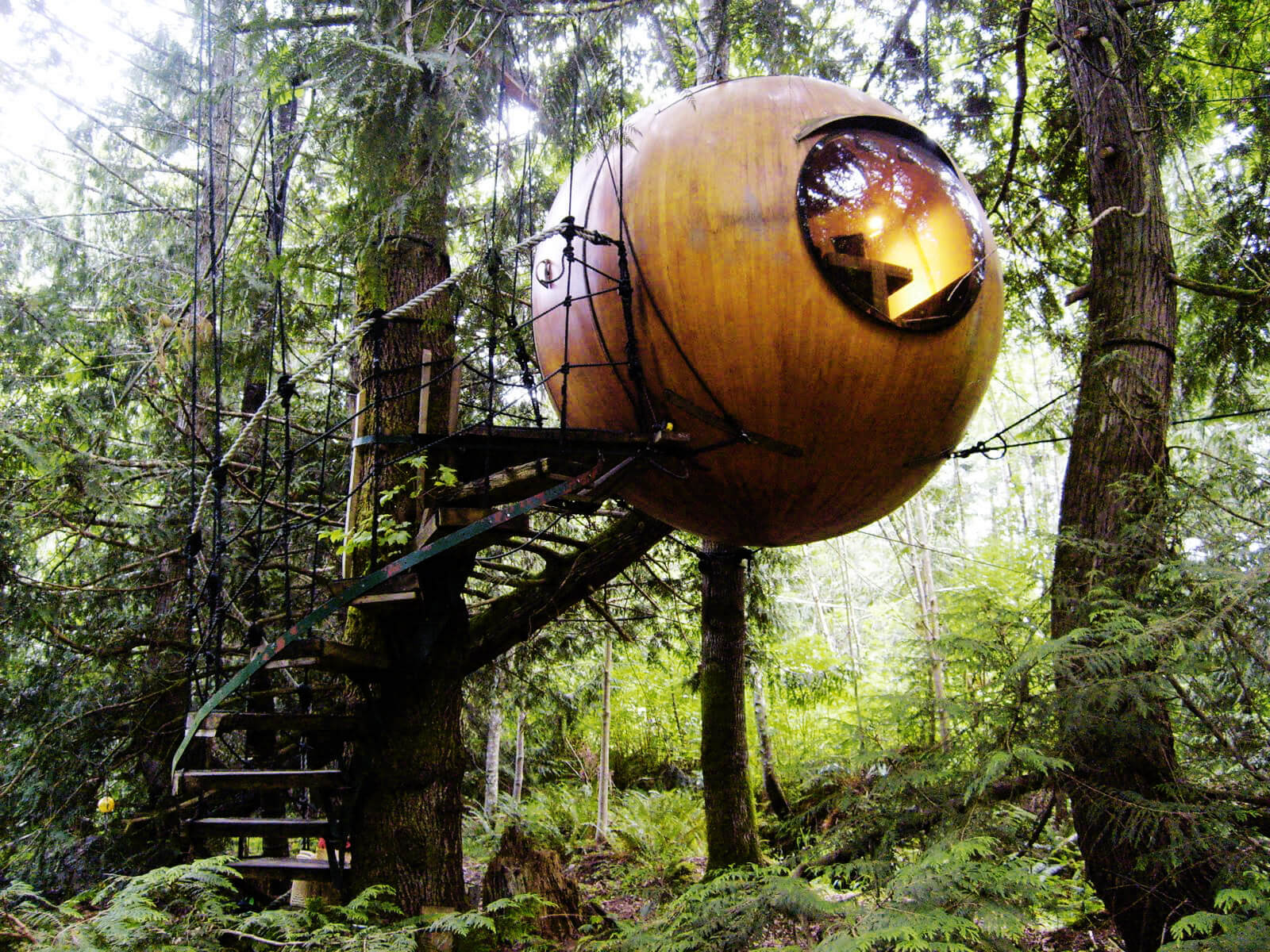 In Vancouver (Canada), there is the Free Spirit Sphere hotel in which all its rooms are spherical treehouses that float suspended by ropes, designed by Tom Chudleigh, the houses mainly made of wood can accommodate up to four people, each one has a kitchen and an outdoor bathroom, they can be accessed by a system of stairs, which will allow you a complete experience in the middle of the forest.
#6. HORACE BURGUESS TREE HOUSE, CROSSVILLE, TENNESSE
It is 30 meters high and uses six trees as a base. It took over 14 years to build.
#7. THE REDWOODS TREEHOUSE – NEW ZEALAND
Located in New Zealand, this treehouse is a restaurant that sits more than 10 meters high on top of a redwood tree. It was created as a marketing campaign for the Yellow Pages in 2008, and its creators wanted to give the shape of a chrysalis hanging from a tree. They can be entered by a walkway that rises to the top of the tree, in conjunction with nature, gives a fairy tale atmosphere challenging to pass up.
#8. THE COCOON, DORSET, ENGLAND
It is made with leaves like plywood woven between the local cedars.
#9. 25 GREEN, TURIN, ITALY
Plants and trees were incorporated into the design of the apartment building. In this way, it was intended to reduce pollution since trees clean the air.
#10. LA PIANTATA SUITE BLEUE TREEHOUSE, ITALY
This treehouse belongs to the Italian farm La Piantata. It's located eight meters above a vast lavender field – a wonderful place to observe nature and relax from every life's daily hustle and bustle.
#11. CEDAR CREEK TREEHOUSE – UNITED STATES
In the heart of the forest, in Mount Rainier National Park, 120 kilometres from Seattle (United States) and fifteen meters from the ground, is this house, which is actually the only room in the Cedar creek treehouse. Built on the layer of a cedar that is more than 200 years old, the cabin has accommodation for up to five people, solar panels for electric power and all the necessary adaptations to keep up … literally.
#12. BIRD'S NEST, LULEA, SWEDEN
On the one hand, the design achieves two clear things: maintaining the privacy of its tenants and, on the other, not causing a visual impact on the landscape. It has two bedrooms, a bathroom and a living room.
#13. UFO, LULEA, SWEDEN
Without a doubt, the most futuristic of all, made with compostable materials. It has space to accommodate five people.
#14. THE MIRROR CUBE – SWEDEN
This is one of the seven treehouses of the Treehotel hotel located in Sweden. In the middle of a thick but welcoming forest, this cube-shaped space measuring 4 square meters is lined with mirrors that blend in with nature. The accommodation for two, although small, offers a 360-degree view of the forest and a 12-meter suspension bridge to access the place. The Tham & Videgård Arkitekter studio was commissioned to create this unique space.
#15. DJUREN TREE HOUSE, GERMANY
Designed by Baumraum and made with wood and zinc metal. Its base is four steel bars that keep the house at the height of 6 meters.
Hand on heart – who doesn't want to spend a night in a treetop? Countless boys and girls dream this dream, even into advanced adulthood. The charm of the escape, the platform they offer within nature or the nostalgia of childish desire, are some of the characteristics that attract the most of treehouses, they will always give a feeling of tranquillity, joy and freedom, that more than one puts as a priority when travelling, staying or living experiences. Imagination will never be lacking in places like these, which is well known by those who designed these idyllic spaces, which were created for the pleasure of travellers seeking genuine contact with nature. We present a selection of some of the most creative and worth visiting.