As of 01 July 2022, Mauritius will accept both vaccinated and unvaccinated travelers and don't worry, there will be no quarantine period required. But, before you start fancying the idea of a beach holiday, have a look at this list of our most recommended villas to better enjoy your stay in Mauritius!
Exquisite Townhouse With Magnificent Garden – Cap Malheureux
For this villa, the first thing that comes to mind is privacy. Situated in the north of Mauritius, this charming villa is set on a 750 m² of private land and is nestled amidst nature and surrounded by a lush green area. This means that you won't have any nosy neighbors to spy on you and you won't either be disturbed by wailing toddlers and annoying dog barks. In other words, it is the best place for a weekend getaway from hectic and busy working days. In this villa, you'll find the "me space" you've been looking for. Sitting in a beautiful garden, surrounded by plants and flowers and looking at the sunset is truly incomparable.
In terms of features, the homely villa boasts two ensuite bedrooms, an American-style kitchen, an open plan living and dining area, an outdoor kitchen as well as a well-manicured garden. The spacious indoors translates to more personal space and privacy, thus promoting and encouraging bonding with family members.
But, I guess what really makes this townhouse stand out among others is its unrivaled comfort of living with nature. The large terrace does not only offer a breath-taking panoramic view, but on a summer day, you'll also be able to feel the sea breeze blowing. Standing there, deeply breathing in the clean air and watching the sun climb up over the horizon, is pure bliss.
Key Highlights:
The property is a just a short drive from the beautiful Cap Malheureux beach.
The property consists of a quite large parking slot.
The owners of the villa are very apprehensive about pets.
The townhouse is also close to all kinds of local amenities such as grocery shops, markets, restaurants, barber shops and so on.
All rooms are air-conditioned.
Fast internet connection is available.
Property is well maintained.
Grill equipment is available in the outdoor kitchen.
More Details:
Address: La Ligne Road, Cap Malheureux
Telephone : +230 2637575
Website: Click Here
Customer Reviews:
No reviews yet as the townhouse is new on the market!
Boutique Villa on the Rocks – Trou D'Eau Douce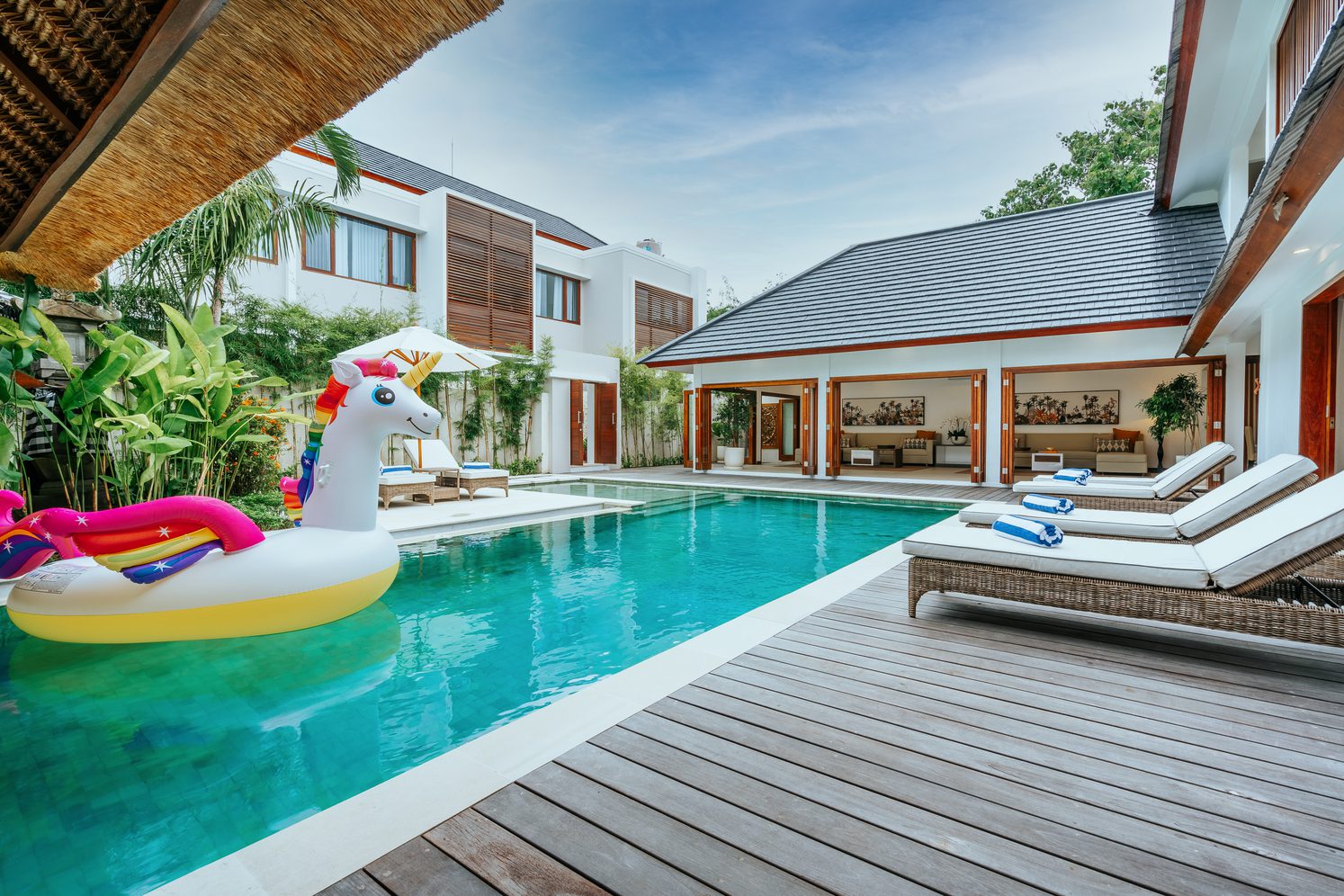 A common norm for renting a villa is selecting a property at a wonderful location and if you are looking for a peaceful and authentic place, go ahead and choose Boutique villa on the rocks!
This pretty and cozy villa is situated in Trou d'Eau Douce and is frequently visited by tourists from all around the world. The property is usually managed by a couple who always try their best in making the customers happy and satisfied.
This luxurious villa is composed of a private bathroom with bathrobes and a hairdryer, a warm living room with a flat-screen TV and a kitchen with a microwave, a washing machine, a fridge and a safety deposit box. There's also a nice seating/dining area, along with air conditioning and free WiFi.
Key Highlights:
The property is a 4-minute walk from Trou d'Eau Douce Beach, 2.3 km away from Quatre Cocos beach and 2.9 km away from Palmar beach.
Continental breakfast is always available, which can consist of Italian, American, Asian, Irish, Kosher, Vegan and gluten-free food.
Free private parking slots are available
The property also boasts of a beautiful swimming pool.
The garden is perfect for relaxing.
More Details:
Address: Impasse le roucas, Trou d'Eau Douce, Mauritius
Telephone: Not available
Website: Click Here
Customer Reviews:
"The property located in a rural and quiet place with a sea and garden views,I enjoy swimming with my children. The couple cooperate and try their best to arrange trips for us with good price..They are humble, caring couple and I hope for them a wonderful life." – From Abdullah
"At the start everything was good but then I found three new born kittens but the owners refused pets, so I had to drop out." – From Anonymous
 "Lovely apartment. Good breakfast. Very kind owner." – From Urska
"Disappointed by the house and deceived by the pictures. Even if you close the shutters there is open space for mosquitoes to come in. Due to this configuration you could hear people staying on 1st floor talking and they could hear us too. No privacy respected." – From Anonymous