Luxury does not understand times nor continents. That is why, in this blog, we do a review of the largest and most luxurious mansions in the world, from buildings erected by monarchs and wealthy families seeking fame and recognition to villas remodelled by enigmatic millionaires. The most expensive estates in the world are also those with the most lavish amenities that contribute to their eccentricity, such as private islands, many bedrooms, infinite pools, cinemas, gyms, among others. So, let's check them out!
#1. Biltmore House (North Carolina, United States)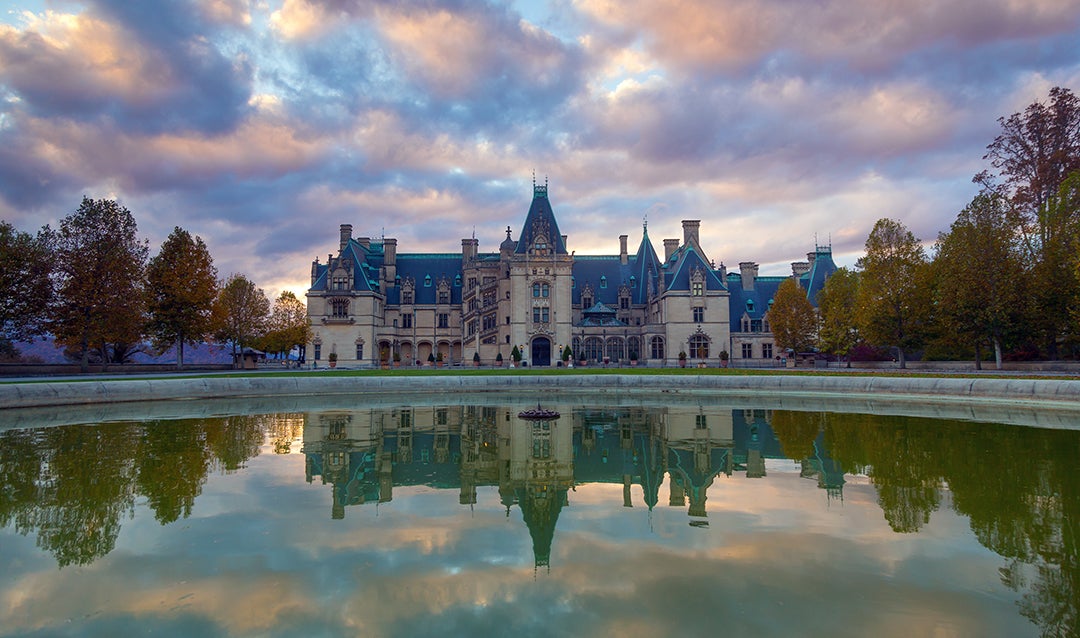 In Asheville, North Carolina, they like to boast of having the hugest mansion in America. In 1888, George Vanderbilt, the visible head of one of New York's wealthiest families, visited the Blue Ridge Mountains and fell in love with the scenery. He had accompanied his mother, who needed to breathe clean air on medical prescription and what he found, at 25, was the perfect place to gather his family and friends. Seven years later, in 1895, the castle-shaped mansion, designed by architect Richard Morris Hunt, was finished. Inside, 250 rooms. Outside, 50,000 hectares, many of them dedicated to Frederick Law Olmsted's incredible gardens, also did the same with Central Park.
The mansion was opened to the public in 1930 with the aim to attract tourism after the crash of the Crack of 29. It even served as a refuge for several dozen works of art from the National Gallery of Art in Washington during World War II. Visitors can stay in a hotel built on the guest grounds, but the Vanderbilts still keep much of the 34 bedrooms, 43 bathrooms, three kitchens, 67 fireplaces, 10,000 books, bowling alley, wine cellar or the indoor pool for them. Visiting it costs 60 dollars, and every year it receives one and a half million tourists, who are attended by a team of 2,000 people.
#2. Queensland, Australia
In Australia, an imposing property is for sale and what stands out most is its private views. It has six bedrooms and is a private mansion which can be accessed by sea, land or air as it has its own helipad. In addition to its incredible views, this luxurious property boasts amenities such as a private cinema, gym, swimming pool, guest house, and sale for the sum of $ 13.4 million. Are you looking for professional property lawyers in Melbourne? Get in touch with the experts at Oates Rennick & Associates. Whether you're buying or selling a property in Melbourne, they have the experience to advise and manage your property projects.
#3. The Antilia Tower (Mumbai, India)
Its silhouette is drawn imposingly in the elite neighbourhood of Malabar Hill, in the Indian financial capital. Nevertheless, nothing stopped constructing the so-called "skyscraper of the ego" erected by Mukesh Ambani, in the position 19 of the richest men in the world. The Hanging Gardens of Babylon inspired the billionaire to build his mansion, with 27 square floors, including three helipads, nine elevators, several ballrooms, a cinema and a peculiar ice room. Each floor has different designs and materials: no two are alike. Located on top of a hill and overlooking the Arabian Sea, the house has a height of 173 meters and 4,778 square meters of residential space, out of a total of 37,161 square meters.
#4. The Witanhurst House (London, UK)
The Witanhurst House, in Georgian style, is the largest house in the British capital … Except Buckingham Palace. Located in Highgate, next to Hampstead Heath Park, the original building was built in 1774 by a British stockbroker to live with his wife and eight children. Centuries later, the mystery runs through this 3,716-square-meter mansion set on a 14-hectare site. After being bought and sold several times, it ended up falling into oblivion, barely resisting the passage of time. 
#5. Taohuayuan Mansion (Suzhou, China)
Utopia, Flower of Peace … The Taohuayuan Mansion is known by several nicknames, although its exact translation is "land of the peach blossom" and it's more commercial name The House of 1,000 million yuan. This is how it has been known since Jim Hao, vice president of the real estate Sotheby's, appraised at 154 million dollars (about 140 million euros). Built on a private island surrounded by Lake Dushu, it has an area of ​​more than 6,700 square meters and is the most expensive house for sale in China in its history. The mansion has 32 bedrooms, 32 bathrooms and all its exterior decoration is based on the classic Suzhou gardens, a UNESCO World Heritage Site, characterized by the use of four elements: rocks, water, pavilions and plants.